"Amour" is an oil on linen' painting by Jacqueline Tiepermann that talks about love and passion. The piece is part of a private collection that is available for viewing at the salon. The painting took Jacquleine over a year to complete using the same technique to produce as the paintings in her successful 2015 "Nushi" body of work. However, the medium did not like the red pigments and Jacqueline had to wait months for each layer to dry, to achieve the depth of emotion sought. Jacqueline believes the painting gives credence to Edward Hopper who wrote the truism "If I could say it in words there would be no reason to paint."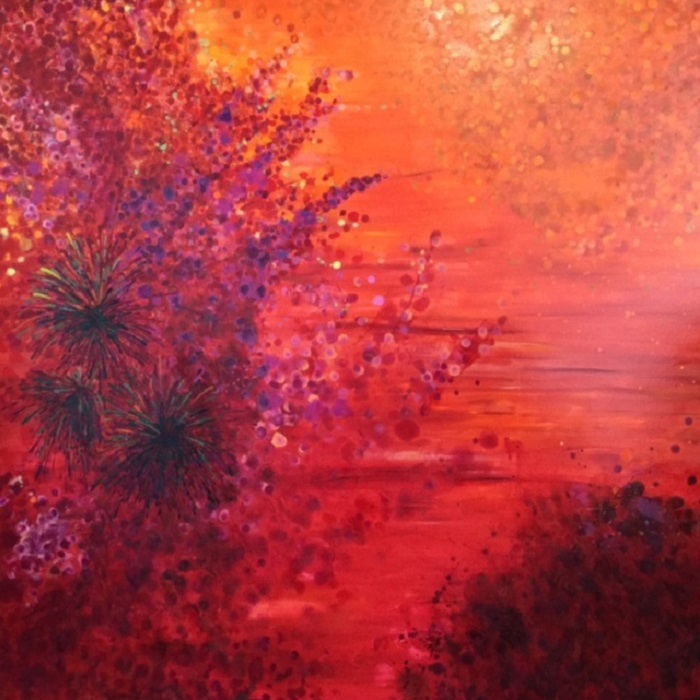 "Amour" 145 x 165 cm Oil on Linen (Box Framed) - 2016.
"Wallaroy I" is an oil on paper' painting by Jacqueline Tiepermann from her 'Wallaroy' body of work. The peice is also part of a private collection that is available for viewing at the salon. The 'Wallaroy' body of work talks about the happiest era of Jacqueline's life, which was the 1980's - a decade in which her family lived in Wallaroy Road, located in the Sydney suburb of Woollahra. The word that Jacqueline chose to describe this body of work is abundance, reflective life, love and laughter. Hydrangeas were chosen as dialogue for 'Wallaroy' as they are reminiscent of Jacqueline's past. These blooms have laced their way througought her life and are deeply embedded in the recesses of her mind, representative of safety, family and heritage.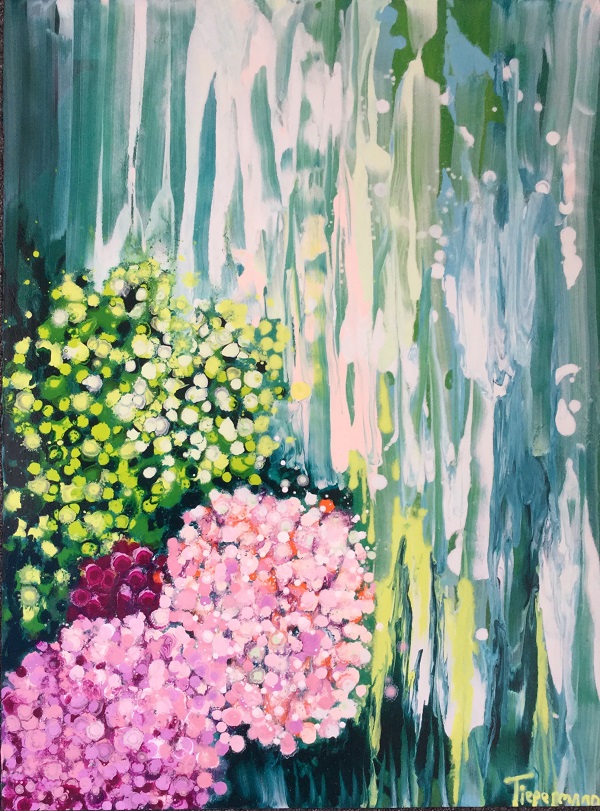 "Wallaroy I" 92 x 73 cm Oil on Paper - 2016.
July 2014 was momentous for Jacqueline Tiepermann; it was an accident that changed her life. It marked the beginning of life without him. And so "Nushi" was born; it was the term of endearment for her late husband, Hans. "Nushi" is neither morbid nor sad; it is a love story, stories of memories, companionship, passion but most of all love. At the time Jacqueline had no idea how important this new body of work would be to her recovery. A fellow artist viewed the work and came out with one word: duende" It doesn't translate easily into English; it loosely means having soul, a heightened state of expression, authenticity. Heart. It is the fiery spirit behind a performance that stirs both performer and audience.
As her soul regained its strength, "Nushi" grew. Each moment of the creative process her senses were engaged more fully with richer and more focussed awareness. Jacqueline's soul grew, although it's difficult to define the soul. Perhaps it is that thing that allows an experience to become a meaningful event, as it carries with it the ability to communicate love. Love. That's what Nushi is all about. Not just for Hans, but for life.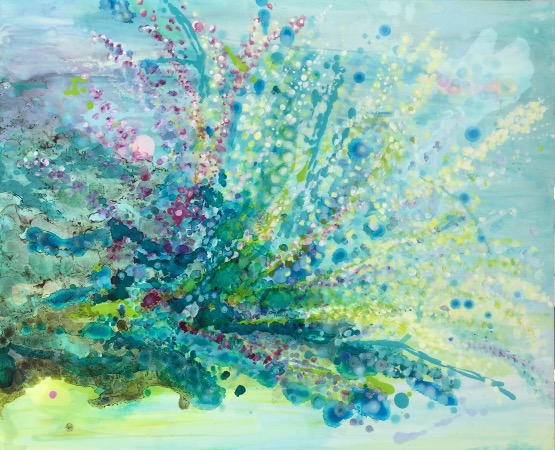 "Nushi XII" 93 x 112 cm Oil on Linen - 2015.
Jacqueline Tiepermann has been painting, when time permitted, most of her life. She primarily worked on commissions for foyers of public buildings, hotels and apartments for a Sydney developer. Then in 2010 she held her first solo exhibition called "Viaggio" held at Brightspace in Melbourne. Other solo shows followed in Queensland in 2012, Becker Minty in Sydney 2014 and Yellow House Gallery Sydney 2015.
Jacqueline once said 'If you are going to accomplish your mission in this world, you must know it's not about where you are going, but about the changes you go through in order to get there.' From harbour side day dreaming as a Sydney school girl, to screen-printing at the age of fourteen for the renowned designer Florence Broadhurst, to becoming an established artist whose pieces are collected across the globe. Now add to this her success in the world of fashion and commerce. It is her enormous capability to focus that allows her to exist in two worlds that are so diametrically opposed.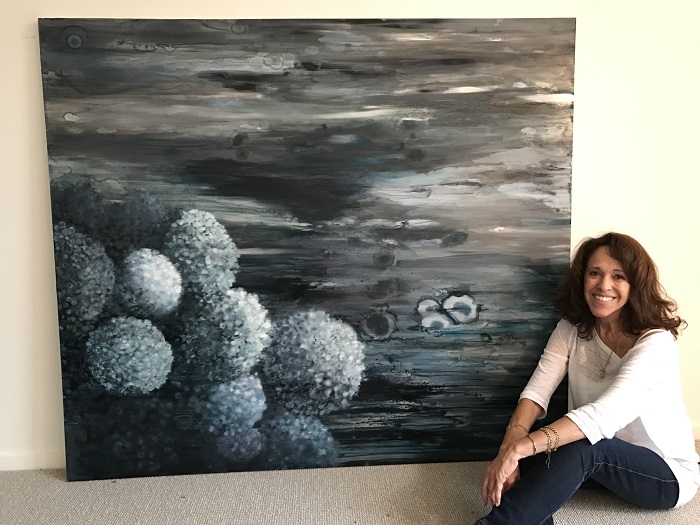 Jacqueline Tiepermann